2020 Most Affordable Online Master's in Environmental Science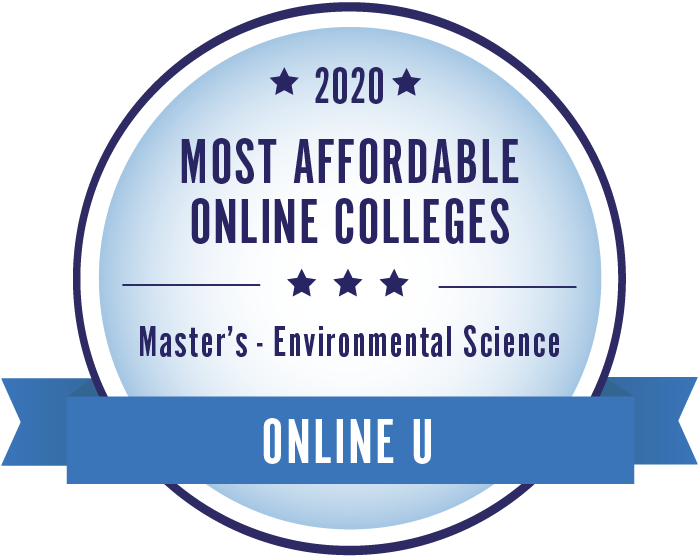 These 25 colleges offer the most affordable online master's in environmental science programs. At #1, Texas Tech University offers an online Professional Science Master's in Environmental Sustainability and Natural Resource Management for only here.">$5,295 per year. Classes for this program include Current Perspectives in Microbial Ecology, Ecology of Renewable Natural Resources, Natural Resource Biopolitics, Population Estimation and Dynamics, and Wildlife Conservation and Management. Ranked #2, the East Central University offers a Master of Science in Water Resource Policy and Management at a tuition rate of here.">$5,357 annually.
You can read more about our ranked schools below or browse our rankings of the most affordable online bachelor's in environmental science degrees. View our methodology or learn more about OnlineU.
All tuition numbers were manually collected and verified
| Rank | School | Annual Tuition |
| --- | --- | --- |
| # 1 | Texas Tech University | $5,295 |
| # 2 | East Central University | $5,357 |
| # 3 | American Public University System | $6,300 |
| # 4 | Colorado State University - Fort Collins | $7,050 |
| # 5 | University of Illinois at Springfield | $8,145 |
| # 6 | Utah State University | $8,281 |
| # 7 | University of Florida | $8,475 |
| # 8 | Troy University | $8,892 |
| # 9 | Montclair State University | $9,872 |
| # 10 | University of Idaho | $9,876 |
| # 11 | Black Hills State University | $10,767 |
| # 12 | University of Illinois Urbana - Champaign | $11,200 |
| # 13 | University of South Florida Online | $11,586 |
| # 14 | University of Maryland Global Campus | $11,862 |
| # 15 | University of Connecticut | $12,375 |
| # 16 | Oregon State University | $12,880 |
| # 17 | Prescott College | $13,050 |
| # 18 | Lipscomb University | $13,485 |
| # 19 | Virginia Polytechnic Institute and State University | $13,500 |
| # 20 | The University of West Florida | $13,853 |
| # 21 | California State University-Fresno | $13,963 |
| # 22 | Webster University | $15,600 |
| # 23 | Texas A&M University-College Station | $16,526 |
| # 24 | University of Wisconsin-Parkside | $16,605 |
| # 25 | North Carolina State University | $19,425 |